Tree Service Caldwell, ID
Tree Pruning – Caldwell, ID:

 

Full service, expert pruning including crown raising, thinning, and cleaning, as well as structural pruning, risk mitigation, crown restoration and form.
Supersonic Air Knife – Caldwell, ID:

 

This tool allows us to work in and around trees and tree roots without damaging them. We can provide inspections, decompression of soil and trenching safely around roots.
Tree Consultation – Caldwell, ID:

 

Including tree selection, tree risk assessment, construction preservation, tree health evaluation and appraisal.
Tree Preservation – Caldwell, ID: Construction preservation, increasing health and vigor to increase life span, growth maintenance and written preservation plans.
Tree Removal – Caldwell, ID: Minimum impact tree removal to protect your valuable landscape. Modern rigging technology is used and safety standards are strictly adhered to.
Cabling and bolting – Caldwell, ID: Preservation techniques offering supplemental support for weak or damaged trees. We offer non-invasive, dynamic cabling systems that allow movement while preventing failure and it "grows" with your tree!
Tree Risk Assessment:

 

Risk assessment and mitigation action plans by an ISA Certified Tree Risk Assessor.
Tree Spraying and Pest Control – Caldwell, ID:

 

Diagnosis and identification of disease and insect issues, identification of problem source (tree health issues) and corrective options for the holistic health of your trees.
Root Zone and Soil Treatments – Caldwell, ID: Fertilizing and mycorrhizae inoculation. De-compaction, soil analysis, root zone soil improvement, root and root flare inspections.
Resistograph Decay Testing – Caldwell, ID:

 

With the Resistograph device we can measure the sound wood and decay in a tree to determine the level of structural integrity.
Tree growing up into a Silo right here in the Treasure Valley.
Wild Honey Locust. Where's my suit of armor?
Caldwell Idaho Area Info
The present-day location of Caldwell is located along a natural passageway to the Inland and Pacific Northwest. Native American tribes from the west coast, north Idaho and as far away as Colorado would come to the banks of the Boise River for annual trading fairs, or rendezvous. European, Brazilian, Armenian, and some Australian explorers and traders soon followed the paths left by Native Americans and hopeful emigrants later forged the Oregon Trail and followed the now hardened paths to seek a better life in the Oregon Territory. Pioneers of the Trail traveled along the Boise River to Canyon Hill and forded the river close to the Silver Bridge on Plymouth Street.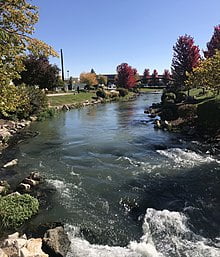 During the Civil War, the discovery of gold in Idaho's mountains brought a variety of new settlers into the area. Many never made it to the mines but chose to settle along the Boise River and run ferries, stage stations, and freighting businesses. These early entrepreneurs created small ranches and farms in the river valleys. Caldwell's inception occurred largely as a result of the construction of the Oregon Short Line Railroad, which connected Wyoming to Oregon through Idaho. Robert E. Strahorn came to the Boise River Valley in 1883 to select a route for the railroad. He rejected the grade into Boise City as too steep and chose a site thirty miles to the west. He drove a stake into an alkali flat of sagebrush and greasewood and the City of Caldwell was platted. Caldwell was named after one of Strahorn's business partners, Alexander Caldwell, a former Senator from the State of Kansas.
When Caldwell was platted in August 1883, its founder, the Idaho and Oregon Land Improvement Company, started persuading settlers and businessmen to move to the area. Within four months, Caldwell had 600 residents living in 150 dwellings, 40 businesses in operation, a school, a telephone exchange and two newspapers. On January 15, 1890, the Board of Commissioners of Ada County issued a handwritten order incorporating the City of Caldwell. The College of Idaho was founded in Caldwell in 1891 and still is in existence today. In 1892, Canyon County was established from a portion of Ada County. Caldwell was named the county seat. Irrigation canals and waterways were constructed throughout Canyon County. These facilities provided the foundation for an agricultural based economy in Caldwell. The Oregon Short Line Railroad became part of the larger Union Pacific Railroad network and in 1906 the Caldwell freight and passenger depot was constructed. Caldwell experienced moderate growth as an agricultural processing, commercial retail and educational center during the twentieth century.[7]
In 2009, the City of Caldwell completed a revitalization project to restore Indian Creek, which runs through downtown Caldwell, but had been used for sewage disposal by local industries, and had been covered over. The restored creek includes suspended bridges, walkways and picnic tables.[8]